More than 8,000 Carillion workers have had their jobs saved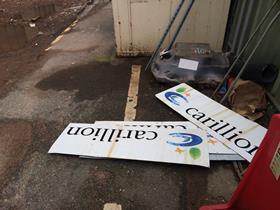 Another 230 Carillion workers have been chopped, according to an update from the Official Receiver.
The latest round of job losses comes from staff who had been working on jobs that have transferred to other suppliers.
The Official Receiver's statement said: "Unfortunately as the liquidation proceeds some roles supporting contracts that have transferred are no longer required. As a result 230 employees have been declared redundant and will leave the business later this week.
But the news was better for 456 employees who have had their jobs secured.
The Official Receiver said: "Work is continuing to find new suppliers to take on Carillion's public and private sector contracts with ongoing employment now secured for a further 456 employees. Over 8,000 of Carillion's workforce have now been placed into secure jobs."
In total, 8,066 jobs have been saved, while 1,371 jobs have been made redundant through the liquidation process.
Around 8,000 employees are still in limbo, as they are currently retained to enable Carillion to deliver the remaining services it is providing for public and private sector customers.
Their future remains unclear until decisions are taken to either transfer or cease the contracts they are working on.