Rise in insolvencies prompts warning that more 'high profile' firms likely to go bust this year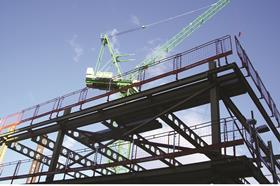 The construction industry is likely to see more high profile casualties this year after 2011 saw a rise in insolvencies and administrations, industry leaders have warned.
The number of construction firms that fell into insolvency rose by 3% last year to 3,035, while the number of administrations grew 9% to 351, according to figures from the Insolvency Service.
Jonathan Hook, PwC's global leader of construction, said he expected to see more "high profile" firms go under this year, following the collapse of Killby & Gayford and MJN Colston.
But the number of administrations fell in the first quarter of 2012 to 83, down from 101 in the first three months of the previous year. First quarter figures for 2012 were not available for insolvencies.
Hook said: "It doesn't surprise me that the number of failures is growing. Our research suggests the construction industry lost 5,000 firms in the space of just two years."
Industry surveys have portrayed differing pictures of the health of the sector in recent weeks.
The Office for National Statistics said last month that construction had contracted by 3% in the first quarter, dragging the country into a 'double dip' recession.
But last week's Markit/CIPS construction purchasing managing index for April suggested growth in the sector.
The index, which has been consistently more positive than official government data in recent months, said the index registered 55.8 in April, down from 56.7 last month, where any score above 50 represents a growth in output.
The Civil Engineering Contractors Association reported positive figures for the first quarter of the year in its workload trends survey.
Its members reported a 1% rise in year-on-year workloads, while future workloads were forecast to rise by 10%.
But workloads in the motorways and local roads sectors continued to deteriorate and, on balance, 43% and 30% of firms, respectively, indicated that activity fell in these sectors.
Almost half of respondents to a National Specialist Contractors Council survey reported an increase in enquiries in the first quarter of 2012 in their state of trade survey released last week