U+I says new head of joint ventures on the lookout for targets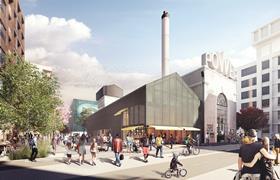 The developer behind the £250m Old Vinyl Factory scheme in west London is on the hunt for acquisitions after appointing a new director of joint ventures.
U+I said Eoin Condren will manage non-public sector joint venture relationships and look to grow its existing real estate private equity partnerships, as well as source and make acquisitions.
Chief executive Matthew Weiner wants to add another £150m worth of business over the next three years
Condren, whose CV includes a spell at student accommodation fund Brandeaux, said: "I see significant opportunity to ramp up our acquisitions through further strategic partnerships in the London City Region, Manchester and Dublin."
U+I, which rebranded after buying rival developer Cathedral nearly four years ago when it was known as Development Securities, is due to announce its full year results on 26 April.
The Old Vinyl Factory scheme (pictured) involves turning the former EMI headquarters and record pressing plant at Hayes into homes, shops and offices with Studio Egret West and AHMM among the architects working on the scheme.