Approval for £17m of Section 106 work paves way for redevelopment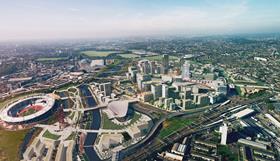 The London Legacy Development Corporation board has formally endorsed a £17m package of infrastructure work for East London's Olympic Park, effectively validating the wider redevelopment plans for the site.
Today's decision paves the way for detailed design work on Chobham Manor, the first new neighbourhood set for construction at the Queen Elizabeth Olympic Park, which is due to see its first homes completed in late 2014.
The wider Legacy Communities Scheme plans for some 64 hectares of the site were approved by the Olympic Delivery Authority's planning committee in June, pending approval of the Section 106 agreements.
As well as creating some 8,000 jobs, the 18-year scheme also plans for around 120,000 m2 of employment space. At the peak of the area's development, some 2,500 construction jobs are expected to have been created.
London Mayor Boris Johnson chaired today's meeting, which approved infrastructure work including the extension of bus and cycle routes throughout the park and a £4m upgrade of Hackney Wick Station.
The board also endorsed the Olympic Legacy Supplementary Planning Guidance, which sets out the mayor's strategic priorities and long term vision for the Olympic Park and its surrounding areas.
Johnson said the developments represented key decisions for enabling work to progress quickly.
"During my mayoralty I intend to remain at the forefront of this drive to create London's newest district that will benefit the whole of our great city over the coming decades," he said.