More than 170 MPs have backed Tory MP Peter Aldous' proposal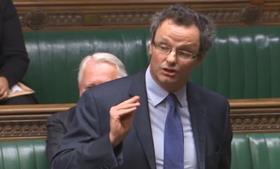 More than one in four MPs have given their support to the bill aiming to protect retentions in the construction industry.
Engineering trade bodies the Electrical Contractors' Association and Building Engineering Services Association (BESA), who helped create the bill, have revealed more than 170 of the 650 MPs have given Tory MP Peter Aldous' (pictured) retention reform bill their backing.
The increased support came as the second reading of the bill was pushed back to 26 October.
Alexi Ozioro, BESA public affairs and policy nanager said: "There is a very busy legislative timetable at the moment, especially with Brexit."
On Friday, plans by Labour MP Andy Slaughter to increase the accountability of private firms working on public sector jobs under the Freedom of Information Act went unheard despite the bill being the second item scheduled to be heard.
But Ozioro said he was hopeful the bill would be heard this autumn. "The broad spectrum of MPs supporting the bill is very encouraging, and is set to continue to grow. Reforming the poor payment landscape is not a matter of ideology or party loyalties, it's common sense."
Aldous introduced the bill in January, six days before the collapse of Carillion.
The current defence secretary, a former chancellor and the leader of the Liberal Democrats are among the MPs throwing their weight behind the Construction (Retention Deposit Schemes) Bill 2017-19.
Gavin Williamson, Ken Clarke and Vince Cable have been joined by a raft of other big names to support the bill, which has its second reading next Friday.
Shadow chancellor John McDonnell is also supporting the proposal along with Green party leader Caroline Lucas and high-profile Conservative Remain supporter Anna Soubry.
Industry support has also grown, with organisations such as accounting body the Association of Accounting Technicians and the British Chambers of Commerce, backing the bill.
There are now more than 575,000 businesses and members of professional bodies supporting the bill.