Country's biggest private contractor cuts average time to settle up by 18 days
The country's biggest private contractor has made good on its promise to improve the time it takes to settle its bills, cutting the average amount of days suppliers have to wait by a third.
Laing O'Rourke was previously one of the industry's slowest payers and chairman Ray O'Rourke had vowed to tackle its record head on.
Last October, O'Rourke (pictured) admitted his firm needed to pull its socks up and pay its subcontractors more quickly.
"We will focus on improving payments to our supply chain during the next financial year," he said.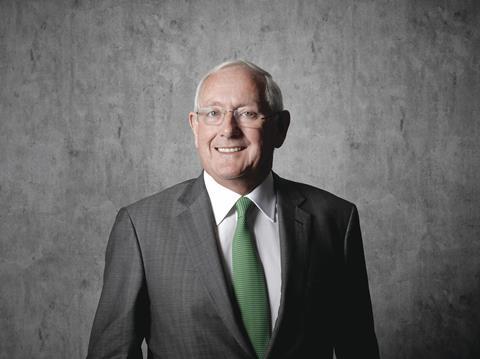 In its latest payment practice report, O'Rourke revealed its average payment time in the six months to 30 September was now 34 days – compared to the 52 days it was taking in the previous six months.
It also improved the proportion of supplier invoices it paid within 60 days, with this figure jumping from 57% to 79%.
But O'Rourke, as well as the country's biggest builder Balfour Beatty, has yet to be reinstated to the Prompt Payment Code (PPC) after the pair were removed earlier this year.
The industry's problem with settling its bills on time was underlined with the news that Kier is among the latest firms to have been suspended from the code.
Five Kier businesses were suspended from the PPC for failing to pay 95% of all supplier invoices within 60 days.
Kier's construction, integrated services, highways and infrastructure and overseas arms have all been told to speed up payments to suppliers.
Utilities and infrastructure services specialist McNicholas Construction Services, which Kier bought in 2017, has also been suspended.
In its most recent payment data, Kier Construction paid 75% of invoices within 60 days, while its highways business paid 79% in the six months to 30 June this year.
Seddon Construction and Eurovia were also among the latest tranche of suspensions, while firms from outside construction who have also been removed include consumer goods giant Unilever, whose brands include Hellmann's, Surf and Magnum, and pharmaceutical company AstraZeneca.
Commenting on the latest suspensions, Chartered Institute of Credit Management chief executive Philip King, who chairs the PPC's compliance board, said the organisation would continue to name and shame signatories who were not up to scratch.
King said: "We will continue to challenge signatories to the code if the obligatory payment practice reporting data suggests that their practices are not compliant."
But Interserve, Tarmac-owned Alun Griffiths and steelwork contract Severfield were all reinstated to the code, having been removed earlier this year. Another firm suspended in the spring, Costain, was readmitted in the summer.
Of the 35 signatories the PPC suspended in April and July, 11 have now been reinstated. Those still waiting also include Galliford Try and Persimmon.