Chancellor will commit £140m to the schemes in tomorrow's Budget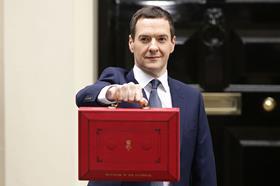 Chancellor George Osborne will give the go-ahead for Crossrail 2 and HS3 in his Budget tomorrow.
The chancellor (pictured) has vowed to make the country's infrastructure "fit for the future" and will commit £80m to draw up plans for Crossrail 2 and £60m for plans on HS3.
Another £75m will be set aside by Osborne for plans on the proposed £6bn Trans-Pennine road tunnel between Sheffield and Manchester in the Peak District.
He will also pledge £161m to Highways England to push forward upgrades to the M62 between Liverpool and Hull.
The money for Crossrail 2, HS3 and the Trans-Pennine tunnel will come from the Treasury's £300m transport development fund announced during last year's budget in November.
It comes after National Infrastructure Commission (NIC) chair Lord Adonis called on the government to kickstart the HS3 rail link between Manchester and Leeds as part of wider plans to improve transport in the north.
In a report published this morning, the NIC said the government needs to make "immediate and very significant" infrastructure investment in the North to unlock the region's economic potential, and calls on the line between Manchester and Leeds to be built by 2022.
The reports also calls for a long-term redevelopment of Manchester Piccadilly train station and accelerated improvements to the M62.
Lord Adonis said: "If the North is to become a powerhouse it has to be better connected.
"Leeds and Manchester are just forty miles apart but there is no quick and easy way to travel between the two. In rush hour it can take more than two hours by car, by train it can be almost an hour.
"So we should kick start HS3 across the Pennines and slash journey times to just 30 minutes. But we must not wait decades for change - journey times should be cut to 40 minutes by 2022."
Reacting to the report, Aecom's Northern Powerhouse director, Richard Green, said: "The combination of immediate incremental improvements with transformational projects such HS3 is the right approach, but the importance of access to the great city centres of the North must not be overlooked."
He added: "Funding this scale of transformation requires looking beyond the UK public purse. Foreign direct investment will be vital to bringing these projects to fruition quickly."