Chancellor proposes giving Bank of England powers to limit lending in buy-to-let market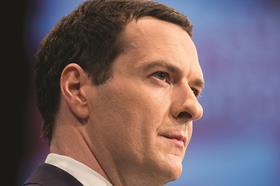 Chancellor George Osborne is planning further curbs on the buy-to-let market by proposing giving the Bank of England further regulatory powers over the booming sector.
According to reports, Osborne will launch a consultation before Christmas on plans to give the Bank of England's Financial Policy Committee (FPC) greater oversight of the buy-to-let market, including powers to tighten lending to investors.
The FPC warned in a report this month that "strong growth in buy-to-let lending […] may have implications for financial stability."
The proposal comes after Osborne unexpectedly announced a new 3% stamp duty surcharge on people buying second homes in last month's autumn statement.
Kevin Cammack, analyst at Cenkos, commented that he estimates around 10% of all new homes are currently sold to investors of some kind and he expects by 2017 that number to fall by 25-30%. However, he expects growth in PRS development sales to "compensate for this volume - if not at the same margin".