Chancellor says UK government has resolve to 'maintain fiscal stability'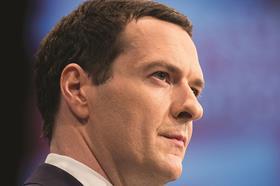 Chancellor George Osborne has sought to reassure businesses that the UK's economy is sound and can withstand Brexit, after a chaotic few days triggered by Thursday's referendum.
In a statement this morning Osborne acknowledged the government would have to take action to mitigate the "impact on the economy and the public finances" of Brexit, but he said it was prepared and ready to do so, adding: "No one should doubt our resolve to maintain the fiscal stability we have delivered for this country".
Osborne's comments come as the UK begins to digest the full impact of Brexit, including the prospect of a new prime minister, a potential new leader of the opposition, a possible snap general election, a second Scottish independence referendum, and protracted trade negotiations with the European Union and beyond.
A survey by the Institute of Directors of 1,000 business leaders published this morning found many firms will respond to the uncertainty with investment cuts, hiring freezes and redundancies.
A quarter of respondents said they were putting hiring plans on hold, while 5% said they would make staff cuts.
Nearly two-thirds said the outcome would be negative for their company, while one on five said they would considering moving operations overseas.