Chancellor sets out plan to reduce the tax on apprenticeships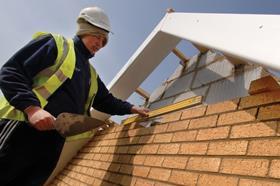 Chancellor George Osborne has unveiled measures to help firms take on apprentices as part of his Autumn Statement.
Treasury documents released today said: "The government is making it cheaper for employers to take on an apprentice by abolishing employer National Insurance contributions for apprentices aged under 25 on earnings up to the upper earnings limit."
It said employers of around half a million apprentices would be made exempt from paying national insurance contributions as a result.
In his speech to Parliament today Osborne said: "When a business is giving a young person a chance in life we're going to support them not tax them."
Reacting to the apprentices announcement, David Rowbotham, Mace director for safety and socio-economics, said: "We welcome the Chancellor's comments on apprenticeships today. Incentives are being put in place, including cutting national insurance contributions for companies who take on young people under the age of 25.
"However, a promise to deliver the best schools, skills and apprenticeships for young people, needs the right support.
"Companies have a key role to play in inspiring the next generation and equipping them with the right skills for our industry's future needs."
Brian Berry, chief executive of the FMB, said: "Apprenticeship funding still hangs in the balance with no clarity offered by the Chancellor in today's Autumn Statement. We had hoped government would publish its response to the May 214 consultation on funding reforms for apprenticeships but as things stand, we are no closer to understanding if Ministers have taken heed of our advice and decided to review their ill-conceived proposals.
"Like many organisations which represent SMEs, we have warned the Government that if it implements its apprenticeship funding reforms as proposed, they will greatly detract from the ability and desire of small firms to train apprentices. As two-thirds of all construction apprentices are trained by micro-businesses - that is the very smallest of firms - this is extremely concerning.
"Although we welcome the abolition of employers' National Insurance contributions on earnings up to the upper earnings limit for apprentices aged under 25, what we really need to hear is an alternative way forward for SME apprenticeship funding. Perhaps government has decided to kick the issue into the long grass in which case I urge Ministers to respond as soon as possible - uncertainty around apprenticeship policy is the last thing our industry needs when facing an ever-growing skills gap."
Adrian Belton, chief executive of CITB, said: "Today's abolition of National Insurance on apprenticeships and £20m investment for careers advice for young people are a real boost for employers looking to invest in young people. The priority now for industry and government is to make apprenticeships simpler, ensure providers respond to needs and create a simpler framework for engaging with schools."
Osborne also unveiled support for small businesses by extending relief on business rates.
In his speech Osborne said: "We will double Small Business Rate Relief for yet another year.
"It benefits half a million firms, means a third of a million firms pay no rates and we'll continue to fund it."
The relief from small business rates will now run until April 2016.