Mixed set of output figures released by the ONS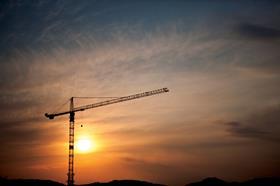 Construction output dropped 3.7% year on year in April, according to the latest mixed set of Office for National Statistics figures.
The ONS construction statistical bulletin, released this morning, shows that output is down both on a monthly and a quarterly basis compared to this time last year. Compared with April 2015, output decreased by 3.7%.
In addition, output fell by 2.1% during the first quarter of this year vis-à-vis the same three-month period in 2015.
New orders in the first three months of this year were estimated to have decreased by 1.2% compared with the final quarter of 2015. They were also down by exactly the same proportion on the first three months of 2015.
However, the better news for the industry was that April saw a 2.5% increase in output compared to March 2016, with new work up by 2.9% and maintenance by 1.9%.
According to the latest statistics from building's sister company Barbour ABI, private new housing orders were at their lowest level for more than two years Non-housing public sector construction work totalled £1.7bn, its lowest figure for over four years.
A brighter spot in the Barbour ABI figures was office construction work, which topped £2bn for the first time since the recession, while the commercial sector totalled overall £4.8bn, up 15% compared to one year ago.
Commenting on the latest batches of figures, Barbour ABI lead economist Michael Dall said that it was "not incomprehensible" that the uncertainty generated by this month's 'Brexit' vote meant businesses were reluctant to commit to large-scale projects.
But he added that the second quarter's figures would be most revealing about the influence of the EU membership vote on the sector.
Dall also said the 15% decrease in private housing construction during the quarter would be seen by many as worrying, given the extent to which the industry has become reliant on the sector.
But Michael Thirkettle, chief executive of consultancy McBains Cooper, said the 'Brexit' effect had been overstated.
"It is encouraging that these figures show an increase in output, and although there may be further blips over the coming months, we believe that the long term outlook remains positive.
"Investors are telling us they are taking stock until the result of the EU referendum result. We expect things to pick up after 23 June."