Housing association was client on both south London schemes more than a century apart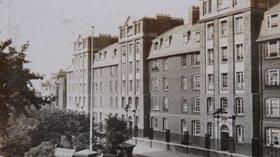 Peabody has completed work on more than 60 homes close to an estate in south London it built more than 100 years ago.
The new 66-home development features a mix of flats across a six-storey block on Camberwell Road.
Designed by Weston Williamson, the new scheme has been built opposite the red-brick Camberwell Green Estate built in 1911 after architect Victor Wilkins won a competition for its design two years earlier.
It was the first of Peabody's residential schemes to feature entirely self-contained plumbing, meaning the estate's residents did not have to share sinks or toilets.