Lord Best lists catalogue of failures, while industry says firms 'play their part' in delivering much-needed homes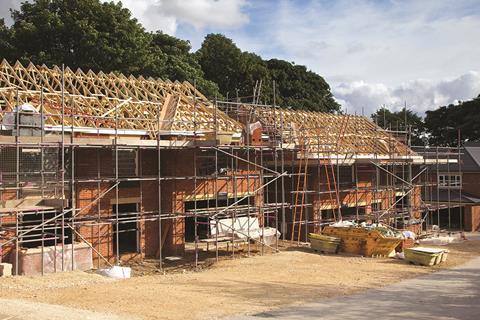 An independent peer has fired a broadside at UK housebuilders, whom he said put corporate profits before solving the housing needs of the most vulnerable in society.
In a House of Lords debate on housing availability and affordability last week, Lord Best – formerly Richard Best, a one-time director of the National Federation of Housing Associations – said the UK was "abjectly dependent" on private housebuilders, who were "failing us badly".
Best said the industry's "catalogue of failures" included poor quality in construction and design; bad customer care; miserable space standards; rip-off leases for houses; deteriorating satisfaction of buyers; avoidance of housing for older people; rejection of brownfield sites and a concentration on easier greenfield opportunities; poor planning strategy, and sitting on land with planning consent until prices "go ever upward".
He went on: "Perhaps worst of all, [is the] reneging on Section 106 agreements and wriggling out of obligations to provide affordable homes for local people, on opaque grounds of 'viability' and housebuilders' 'right' to make at least 20% profit on the deal."
Best said shares in the major housebuilders' shares had risen by 127% in the past four years, compared with 21% for the FTSE All-Share Index, while profits in companies such as Persimmon rose by more than 30% last year.
But he believed the private housebuilding sector had "lost the confidence of the whole nation".
And while he welcomed the government's recent announcement regarding support for local authorities and housing associations to build 25,000 homes for social rent, Best also took aim at internal wrangling between government departments, which he said only served to make the lives of poor people more difficult.
"The issue of affordability also highlights the crying need for the good intentions of Ministers at the Department for Communities and Local Government not to be continually undermined by the Department for Work and Pensions (DWP), [which] has been disastrously cutting, capping and freezing the support it provides to enable poorer people to afford a proper home.
"This interdepartmental conflict is currently undermining the provision of supported housing for vulnerable and older people, and it undermines the Homelessness Reduction Act that I had the honour of piloting through your Lordships' House, because the DWP freeze on the local housing allowance, which caps rent for those who rely on benefits, causes homelessness when landlords inevitably turn out or turn away anyone in receipt of benefits."
Responding to Lord Best's speech, a spokesman for the Home Builders Federation said housebuilders had delivered a 50% increase in supply in the past three years and were committed to building even more homes in the years to come, "playing their part in solving the nation's acute housing crisis".
Housebuilders invested billions of pounds worth of contributions to improved local infrastructure and amenities, he added. "House builders are a key part of the solution to our housing crisis and all people involved in housing supply, including politicians, need to be working together to develop workable solutions to the challenges we face."
On Best's claims around affordable housing and housebuilders' profitability, the spokesman said affordable housing requirements set out in planning policy had to be negotiable. "They are aspirational targets. This means they are not set at 50%, but based on individual site assessment of viability.
"Similarly, the claim that developer return of 20% is a 'right' is incorrect. This too is a negotiable element of the viability of the site, discussed and agreed with the local planning authority when granting planning permission."