But housebuilder says market share now back at 'more normal levels'
Persimmon has said private homes sales in the third quarter of the year were 38% higher than last year and was on course to complete at least as many homes in the second half of 2020 as it did in 2019.
The housebuilder, which has benefitted from not having put any staff on furlough during the first lockdown, said in a trading update that it expected to be able to work through the second lockdown relatively unaffected, maintaining pre-covid build rates.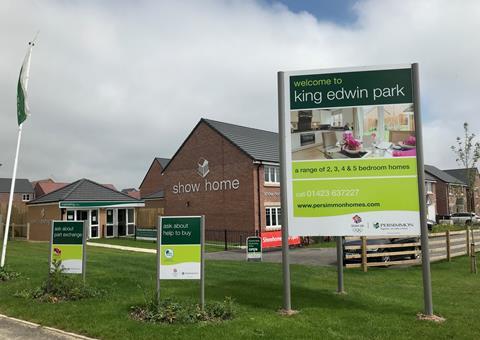 In the second half of last year, it completed 8,271 homes and said it would match that for the last six months of this.
But it said demand since the market reopened in May has started to ease in recent weeks as the firm's rivals returned to sites.
It added: "As anticipated, as the wider housebuilding industry has gradually returned to greater activity, the group's market share has started to trend towards more normal levels in recent weeks, although sales rates remain ahead of the prior year."
Ben Nuttall, senior analyst at research group Third Bridge, said: "Amidst a national conversation about living space and the allure of our cities they also happen to focus on non-city and suburban locations as well as houses over flats. How this plays out over the long term on the demand side only time will tell, but we can be sure on the supply side it will be less of an impediment to them than some competitors will experience in operating a socially distanced sites."
The firm announced it will pay a second interim dividend of 70p per share on 14 December, on top of 40p paid in September – thereby fully making up for the cancellation during the initial lockdown of the 110p final dividend expected for 2019.