Housebuilder announces raft of changes as it reports 13% turnover boost in 2015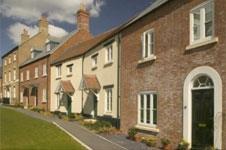 Persimmon has announced a series of board changes as it revealed revenue for 2015 jumped to £2.9bn.
The volume housebuilder said its south division chief executive Nigel Greenaway is retiring after nearly 30 years with the firm, and that David Jenkinson, formerly CEO of the north division, is being promoted to group managing director responsible for group businesses with immediate effect.
In addition Richard Pennycook, senior independent director at Persimmon, and non- executive director Mark Preston will both step down from the board at the conclusion of the Company's AGM on 14 April 2016.
In a trading update Persimmon said revenues for 2015 were £2.9bn, 13% higher than the £2.6bn for 2014, while the group's average selling price increased by 4.5% to £199,100, from £190,533 for 2014. It said it also expects to report substantial growth in its pre-tax profits and cash generation in its end of year results.
The firm said it had seen a solid beginning for the group's two new businesses, Central and Teeside, in 2015, which delivered 160 and 310 new homes respectively during the year. It also announced that a further two new businesses based at Launceston in Cornwall and Perth in Scotland commenced trading on 4 January 2016 as it continues long term growth strategy.
During 2015 Persimmon opened 250 new development sites across the UK, which it said further increase operating margins for the second half of 2015 as previously reported.
The Group held cash balances of £570m at 31 December 2015 up from £378m for 2014.
The group also acquired 20,500 plots of new land over 123 sites during the year.
The firm said that the consistent application of the National Planning Policy Framework was "supporting improvements in land release for development", and that "the additional initiatives recently announced in the Autumn Statement should help further."
The value of the group's forward sales at 31 December 2015 was £1.1bn, 13% ahead of the £973m for 2014, which Persimmon said provided "a strong platform for the group to continue to execute its long term strategy, which includes growing the business to take advantage of sustainable market opportunities".
Richard Pennycook is resigning after eight years due to time commitments as he will be taking up the role of chairman of Howden Joinery Group from May 2016. Mark Preston is resigning after four years also due to time commitments following his prospective promotion at Grosvenor Estate.
Following these changes, the Persimmon's board will consist of eight directors, the chairman, three executive directors and four non-executive directors.