Housebuilder report strong half-year trading, as confidence improves after the election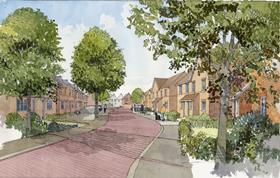 Persimmon snapped up 11,500 plots during the six months to June, as part of its push to build 16,000 homes a year within five years.
In a half-year trading update, Persimmon said its consented land bank hit 92,400 plots at 30 June.
Over the first half of the year, legal completions were up 7% to 6,855 units, up from 6,408 units the previous year, while the average selling price rose 4% to £195,000.
Persimmon said confidence among buyers "remained resilient" in the run up to the general election and had "improved subsequently".
The firm opened 122 sites in the first half, and plans to open a further 125 sites by the end of 2015.
Persimmon added: "Customer demand has been supported by an increasingly competitive mortgage market over the last six months, together with continued growth in employment and some welcome improvement in disposable incomes."
The firm will announce its half-year results on 18 August.