The housebuilder is also to open a new business in Nottingham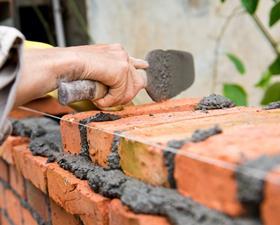 Persimmon is to build its own brickworks in Doncaster.
The factory will be commissioned in the first quarter of next year and will, once built, provide Persimmon with a "substantial proportion" of the company's requirement of bricks.
In its latest trading update Persimmon said this new investment in the company's manufacturing capability would enable it to keep a "tight control of all development costs".
The availability of new sites and the lack of appropriately skilled tradespeople remain the main challenges for the firm, Persimmon said, as it seeks to increase its build rates.
The housebuilder is also to open a new regional operating business near Nottingham at the beginning of next year to support its future growth, having already opened four new businesses in the last two years.
Persimmon reported "encouraging" trading after the EU Referendum and a market that is continuing to benefit from resilient consumer confidence and strong lender support.
However, the firm said it recognised that the uncertainty surrounding the potential impact of the EU Referendum result on the UK economy may continue for some time and therefore remained "cautious" over any new land investment