Housebuilder names David Jenkinson as new chief executive
Persimmon's annual pre-tax profit crashed through the £1bn-barrier in 2018, the first time a UK housebuilder has done so, with the firm putting the row over its former chief executive's pay package behind it and reporting revenues of £3.74bn.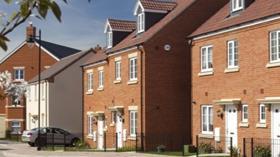 David Jenkinson, the housebuilder's former group managing director named today as its new chief executive following the departure of his predecessor Jeff Fairburn at the end of last year, said the results for 2018 reflect Persimmon's focus on new homes primarily aimed at the first time buyer.
Persimmon reported an operating profit of £1.08bn, suggesting an operating margin of 29%, and a pre-tax profit of £1.09bn, up 13%.
The group's net cash position at the end of the year to 31 December 2018 was £1.05bn, slightly down on 2017's £1.3bn. Forward sales amount to £1.4bn, up 3%, and it achieved a group average selling price of £215,563 per house throughout the year.
Persimmon said it completed 16,449 homes in the year, up 2%, and now owned nearly 76,000 plots of land, 47,000 of which had planning consent.
Jenkinson, who took over as interim chief executive after Fairburn left the firm following a row over his pay package, said his focus in the top job included implementing a number of "necessary" new initiatives in customer care.
"A wide range of projects to improve customer satisfaction commenced in late 2018 and the initial results have been encouraging, giving us confidence in our ability to make progress in this important area," he added.
Weekend reports had suggested that Persimmon's future on the Help To Buy scheme was in doubt, partly as a result of quality issues and poor corporate leadership, speculation which was dismissed by City analysts.
Persimmon's chairman Roger Devlin said Jenkinson had introduced new approaches to customer satisfaction and colleague engagement in his short time in the job "whilst also ensuring that the group delivered another year of growth".
The new chief executive will not take part in annual bonus arrangements this year and would not receive an award under its 2017 Share Performance Plan, Devlin said.
Jenkinson's £515,000 basic annual salary remained unchanged when he was named interim chief executive but Persimmon said it expected to implement a new pay deal for him from 1 January 2020, subject to shareholder approval.
Looking ahead – and particularly towards Brexit – Persimmon said customer activity levels had been "resilient, with good levels of customers visiting our sites over the first eight weeks of the year".
Noting the UK's imminent departure from the EU the group said: "Although currently there is increased economic and political uncertainty associated with the process of the UK's departure from the EU, market fundamentals remain supportive.
"Employment levels remain positive, interest rates continue at lower levels and mortgage lenders are keen to support customers with competitive mortgage products."
The news cheered the market, with Persimmon's shares up 2%, and analysts. Tony Williams of Building Value said the Persimmon statement "reeks of confidence", while Arlene Ewing, Investment Manager at Brewin Dolphin Scotland, said the group "remains the blue-chip option among housebuilders."