The Royal Liverpool and Broadgreen Hospitals NHS trust will now take control of construction contracts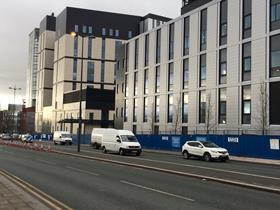 The NHS trust behind the new Liverpool hospital stalled by Carillion's collapse has decided to scrap the existing PFI agreement.
The move has come as speculation mounts that the government is preparing to bail out the new Royal Liverpool Hospital as it has with Carillion's other new hospital job in Birmingham.
Aidan Kehoe, chief executive of the Royal Liverpool and Broadgreen Hospitals NHS trust, said: "The collapse of Carillion created an unprecedented situation with numerous complex legal and commercial issues that we have been working hard to try to find a solution to, alongside the various parties involved.
"All parties have been committed to getting an agreement that enables construction to restart as soon as possible. Today our board of directors agreed that this could not be achieved within the existing PFI agreement and that this agreement should be terminated after the 30 September 'long-stop date'."
But the trust has still not come up with a timeline for when work will restart and finish. Laing O'Rourke is understood to have been lined up for the job with more details on the construction programme due to have been announced over the summer – only for a review by Arup into what Carillion had built finding problems with the cladding and beams putting the brakes on when work would restart and sending costs soaring.
Kehoe said the trust and the special purpose vehicle responsible for delivering the new Royal, The Hospital Company (Liverpool), had reached an agreement on the way forward for the project following a trust board meeting earlier today.
He said: "Subject to detailed government approvals, and legal agreements being finalised, we intend to have a managed termination process after 30 September, by which the benefit of the analyses and pre-works discussions by the lenders will be transferred to the trust.
"This will see The Hospital Company (Liverpool) hand over its contracts for construction, supply chain and facilities management, to the Trust, over the course of the next few months."
Kehoe added: "This is now the fastest way in which we can see construction on the new Royal restarted and means we have outlined a process for doing so."
The scheme has been mothballed since Carillion went bust over nine months ago.