ARC Architecture-designed proposals would have grafted 14-storey block onto locally-listed building
Planning officers in Bournemouth have refused proposals to demolish all but the façade of a locally-listed 1920s cinema to build a 14-storey apartment complex.
The scheme, drawn up by Christchurch-based ARC Architecture for developer Libra Homes, would have delivered 101 new flats as well as retail and restaurant space at the Odeon, in Westover Road.
Libra's outline planning application did not seek to finalise design plans, only to establish the principle of redevelopment at the town-centre site, opposite the Grade II listed Pavilion Theatre.
A supporting statement from adviser Heritage Vision said developing a tower above the existing building was "considered to be an elegant and appropriate solution" that had "the potential to conserve what is significant about the building".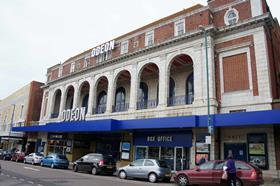 But Bournemouth Borough Council planning officers used delegated powers to refuse the proposals – which they said would be an "incongruous addition" to the retained section of the cinema building.
"It is considered that the proposed development in the manner shown would result in an unacceptable, unjustified and substantial loss of an existing locally listed building," they said.
"In addition, the proposed replacement is of an excessive scale, bulk, height and poor design that would be out of character."
They said the proposals would have a harmful impact on the Pavilion, the Grade II Bournemouth Gardens, and other nearby locally listed buildings.
Their decision letter added that the proposals had provided "insufficient justification" that a tall building would have an acceptable impact on the site, when it was "stark" that it would be harmful.
Redevelopment plans featuring 84 apartments in a 10-storey tower had been refused last month.
The Odeon building was designed by William Edward Trent, in-house architect of Provincial Cinematograph Theatres, and local practice Seal and Hardy.
It was originally named The Regent, before operating as The Gaumont between 1949 and 1986.