Government reform has produced easiest environment to get residential approvals since eighties, claims house builder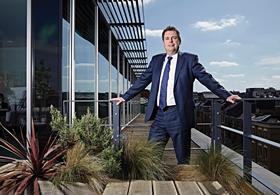 The government's planning reforms have produced the easiest environment to secure planning approvals for housing development since the eighties, according to the chief executive of top 10 housebuilder Cala.
Alan Brown, chief executive of the Scottish firm, which recently acquired Banner Homes, told Building that it was "significantly easier" to get a planning permission than at any point since the late eighties. That decade saw development on greenfield sites prompting a backlash that resulted in the publication of planning guidance, introduced in 1992, prioritising development in brownfield sites.
There is no doubt that [the NPPF] is working, and working more and more by the day

Alan Brown, CALA
Brown, in his first major interview since the Banner acquisition in March, said the National Planning Policy Framework (NPPF), introduced in 2012, had turned this around: "There's no doubt that [the NPPF] is working, and working more and more by the day. We've historically commented on some local authorities that still were avoiding taking their responsibilities seriously, and even they are now starting to change.
"We are seeing it's significantly easier to get planning consent now for housebuilding than it has been at any point since the late eighties."
The NPPF brought a presumption in favour of sustainable development into the planning system. It leaves those local authorities without strong up-to-date plans in place with little ability to fight unwanted development plans. Since the publication of the NPPF, the number of planning appeals decided in favour of the developer rose to 49% in 2013, from 37% under the last year of the Labour government. The number of major applications granted also rose by 15% last year to 14,815, of which 87% were decided in the applicant's favour.
Brown's comments come two years after Cala launched a series of legal challenges over the government's decision to abandon the regional spatial strategies introduced by Labour as part of the coalition's commitment to localism.
To read the full interview with Alan Brown click here