Hotel conversion proposals by Squire & Partners would have "too great" an impact on grade I landmark
Squire & Partners' proposals to convert London's grade I-listed Custom House into a 200-room hotel have been rejected by a planning inspector because of the impact they would have on the Thames-fronting building.
The practice's plans for the early 19th century building – designed by David Laing and Robert Smirke – included new roof terraces and would have seen the building's east block largely rebuilt behind existing façades.
Squire's scheme was drawn up for Cannon Capital Developments and Globalgem Hotels, now Global Grange Hotels. It has drawn opposition from campaign group Save Britain's Heritage, the Georgian Society, London and Middlesex Archaeological Society, the Society for the Protection of Ancient Buildings and the Ancient Monuments Society.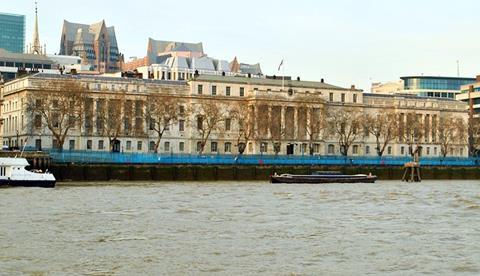 Government heritage adviser Historic England did not object to the proposals but said the plans would cause a "low level of harm" to the existing structure and left the City of London to determine whether public benefits outweighed the harm.
The applicants launched an appeal on the grounds that Square Mile planners were taking too long to decide on the proposals. Members of the City's Planning and Transportation Committee voted to oppose the scheme in October last year, after the power to determine the application had passed on to an inspector.
Planning inspector Paul Griffiths presided over a 13-day hearing into the proposals spread over January and February this year.
He said it was clear that Custom House – which was a base for HM Revenue & Customs until last year – would require some interventions if a new use for the building as a hotel was necessary.
Griffiths also praised Squires for responding "most creditably" to the "difficult demands" of accommodating a hotel in such an important building.
But the inspector said he had come to a different view to that of Historic England on the level of harm that would be caused by the proposals.
"The scheme would bring forward many heritage benefits but it would have many harmful heritage impacts too," he said.
"In balancing one set against the other, it is my view that the harmful heritage impacts carry more weight than the heritage benefits."
The inspector said that Custom House was not at risk and there was "no pressing need" to bring forward a scheme with the harmful impacts that had been identified – particularly in relation to the plan form of Laing's west wing.