Government planning reforms see council change mind over controversial 350-home application it had previously refused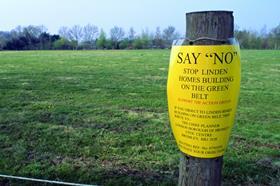 A council in Norfolk has granted permission to a controversial 350-home development it had previously turned down following the government's planning reforms.
The scheme, by land promoter Landstock Estates, at Carpenter's Barn, Wymondham, was originally refused by South Norfolk Council following the decision by secretary of state Eric Pickles to turn down Cala Homes' 2000-home planning application for Barton Farm in Winchester.
However, the council this week approved the Carpenter's Barn scheme, following a judge's rejection of Pickles' Barton Farm decision in February, and the bringing in of a presumption in favour of development in the planning system through the National Planning Policy Framework (NPPF).
Landstock had resubmitted its application after the authority confirmed it would consider the application in light of the new planning system despite the previous refusal.
Planning consultant Barton Willmore acted for Landstock Estates. Andrew Wilford, associate at Barton Willmore, said: "Council members had to take a difficult decision in the face of some strong local opposition.
"The fact they were willing to reconsider the application in the light of the NPPF shows a very sensible and proactive approach that saved a lot of time and expense on all sides."