Project includes town hall, resi and commercial buildings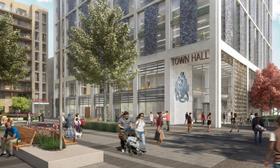 Phase two of a £150m regeneration scheme in Crawley has been given the green light.
Designed by Cartwright Pickard the project also includes a new town hall, commercial office building, a new public square and refurbishments to an existing multi-storey car park.
As part of the development's second phase, which is being brought forward by developer Westrock, outline permission has also been given for up to 182 new homes and a district energy centre.
The new nine-storey Crawley Town Hall will provide more than 4,000sq m of public and office space, including a new civic chamber for Crawley council, with five floors of flexible commercial office space above.
A mixed-use building will sit to the west and north sides of the public square with commercial space on the ground floor in addition to the new housing.
Construction on this phase is due to start in 2019.
The project is part of the masterplan, which will transform the town centre and enable the council to benefit from the ability to generate new revenue from commercial office tenants.
In 2017, Westrock secured planning consent for the first residential building of 91 units and will commence construction in the autumn.
A contractor is expected to be appointed later in the summer.