Cricket club reveals DLA Architecture-designed revamp, part of 20-year plan to boost capacity and secure Test Match future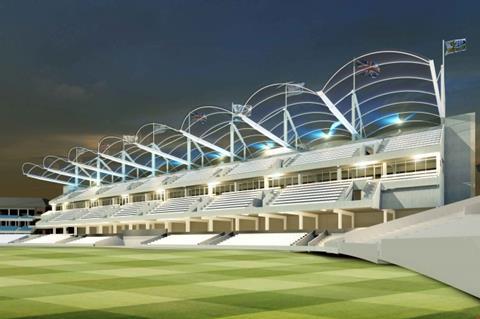 Yorkshire County Cricket Club has unveiled £50m plans to transform its Headingley Cricket Ground with new floodlights, a rebuilt North/South stand, and a new pavilion in a bid to raise capacity and keep international matches at the Leeds venue.

The club said it would work in partnership with neighbours Leeds Rugby, Leeds City Council and DLA Architecture for six phases of redevelopment to take place over the next 20 years.

It said the first work would see the installation of four permanent pylon floodlights, followed by the North/South Stand rebuild, which will provide 5,060 seats over three tiers, along with improved corporate facilities and new permanent consession units.

Subsequent phases of work will see the addition of around 900 seats to the the upper tier of the North East Stand, the development of a new five-level pavilion adjacent to the existing Carnegie Pavilion - which was shortlisted in the 2011 Building Awards 2011.
The structure would include a new main entrance to the stadium on Kirkstall Lane.

Final phases of work would see the erection of a translucent cantilever roof to cover the ground's White Rose Stand and landscaping work.
Club chairman Colin Graves said the project was the most ambitious in the ground's 125-year history.

"We want to create a stadium that is amongst finest in the world and enable Yorkshire to continue to stage major international fixtures over the long term," he said.

"As other venues around the country continue to invest in their facilities, we cannot afford to stand still and expect that Headingley will always host international cricket.

"The stark reality is that if our stadium fails to evolve we will lose our Test Match status, which would be a devastating blow to the region."

Graves said the club and its partners would now begin extensive consultation on the plans.
Headingley currently has a capacity of 17,000.