Architect Farrells works up plans for councils ahead of second phase of rail scheme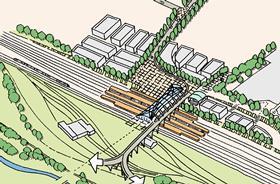 A group of east Midlands councils is pressing HS2 to build a major new hub for the scheme at a site in Toton, close to Derby and Nottingham.
Farrells, working with engineer Peter Brett Associates, has drawn up plans for the project which would be built at a 40ha site currently used by Network Rail for railway sidings.
Among the councils who asked Farrells to draw up the plan are Nottingham city council, Derby city council and Erewash council.
Farrells infrastructure partner Neil Bennett said the hub is proposed to be built by the early 2030s but this could be brought forward.
He added that the scheme would include commercial units along with housing. "We want it to be more than just a station."
Called the East Midlands station hub, the scheme will include a HS2 station as well as a new Network Rail station for services to Derby and Nottingham.