Plans for ISIS Waterside Regeneration's Islington Wharf Mews scheme in Manchester have been unveiled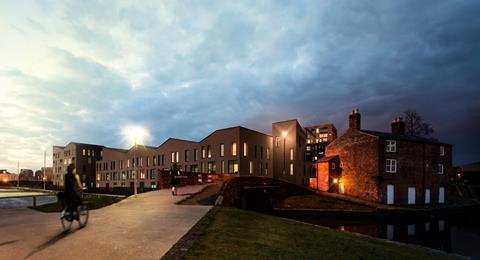 Phase two of the regeneration scheme will build 17 town houses and 29 one- and two-bedroom apartments on the banks of Ashton Canal in New Islington.
The houses are aimed for completion in 2014 and build on the first phase of development, which saw construction of an 18-storey apartment block.
JM Architects, the project designers, have designed a mews-style network of shared streets and green spaces.
Hollie Reynolds, residential sales & marketing manager, said: "We've already been inundated with enquiries ahead of the off-plan launch early next year and anticipate a high demand for homes here."
The development forms part of larger New East Manchester, which is one of the largest regeneration programmes currently being undertaken in the UK.
Reynolds continued: "Many people move out of the centre to the suburbs because they want more space, gardens and a quieter location – but Islington Wharf Mews will provide a city centre alternative."
The houses are positioned in close proximity to the inner ring road and New Islington Metro Stop.
Other highlights of New East Manchester include Cotton Field Eco-Park, New Islington Marina and New Islington Free School.