The new 330,000 sq ft leisure offering will follow on from the £60m refurbishment of the main shopping centre in Sheffield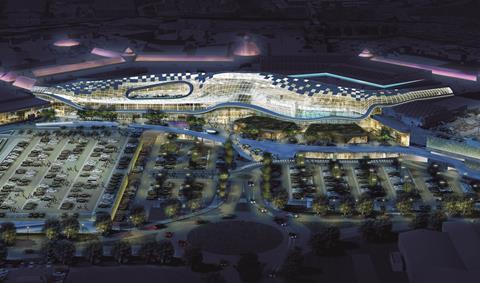 British Land has put in detailed plans for a £300m leisure extension to its shopping mall Meadowhall in Sheffield.
The 330,000 sq ft extension, designed by BDP, will house new restaurants including an open air terrace, a new cinema to replace the existing one, a new café court, gym and additional leisure space.
The new cinema will also have solar panels on top to reduce carbon emissions and provide at least 10% of the Meadowhall Leisure Hall's energy consumption.
Acessibility and parking is also to be improved at the shopping centre with the introduction of high-tech electronic signage, electric car charging points, pedestrian walkways, cycle parking, a cycle lane and a new multi-storey car park.
British Land expects Sheffield Council to make a decision on the plans in spring next year, which the developer claims will create 540 temporary jobs during the construction of the extension and up to 1,400 jobs once complete.
Meadowhall is already undergoing a £60m refurbishment which is due to complete at the end of next year. The architect on both schemes is BDP.
Charles Maudsley, head of retail and leisure for British Land, said: "The Leisure Hall will continue Meadowhall's evolution, creating a place with a bolder, broader and deeper leisure mix. The plans will provide a number of benefits to the entire Sheffield City Region and are complementary to other schemes coming forward which together ensure the region plays a central role in the Northern Powerhouse."