3,500-seat arena and aquatics centre part of ambitious city centre redevelopment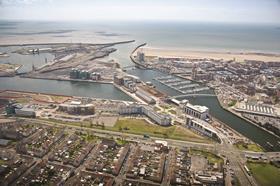 A 3,500-seat arena and an aquatics centre are some of the major projects proposed as part of a £500m redevelopment of Swansea's seafront and city centre.
Swansea council has outlined plans to redevelop two city centre sites, with proposals for one of the sites including an arena capable of hosting of major international performers, exhibitions and conferences, as well as a new residential building to rival the 29-storey Meridian Tower, a new retail street with iconic brands and a new state-of-the-art cinema.
Plans for the site north and south of Oystermouth Road also include an aquatics centre, public square, cafe and restaurant quarter, and improved transport links between the city centre and seafront.
The council has selected developer Rivington Land and masterplanners Acme to manage the redevelopment of the site, with work potentially starting in 2017.
It has also outlined plans to replace Swansea's Civic Centre with a 'hydro hub' – which could include a public aquarium and a state-of-the-art aquatics research centre – and new apartments, town houses, cafes and restaurants and a public square.
Developer Trebor Developments has been appointed to lead the regeneration of the site, and will work with Swansea council to develop the site masterplan.
Commenting on the plans, Edwina Hart, the Welsh government's economy minister, said: "From a Swansea Bay City Region perspective, it is vital that the regional capital, Swansea, develops elements of its built infrastructure in a way that supports and enhances its designated focus as the city of innovation."
Mark Wright, partner at Trebor Developments, said: "Our plans have been very well-received and work is already underway on progressing our ideas, with encouraging interest so far from prospective occupiers.
"We see Swansea as having great potential, with this development as a clear priority project, and we're delighted to be entrusted to deliver it."