Plans have been submitted for a £750m new neigbourhood scheme on the former BBC site in Manchester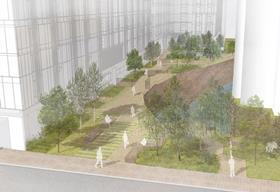 Joint venture partners Select Property Group and Bruntwood have submitted plans for the £750m redevelopment of the former BBC site in central Manchester into a new neighbourhood.
The site - where programmes such as Red Dwarf were filmed – will see five phases of redevelopment, with 2.5 million sq ft of mixed-use space planned in total for completion in 2025.
Phase one will see two student serviced apartment buildings constructed and phase two the development of 350,000 sq ft of commercial space.
The partners expect to receive planning in December and begin construction of phase one in the first quarter of 2016, with completion due by the end of 2017.
Mark Stott, chief executive of Select Property Group said: "It will be a place that draws you in, an extraordinary district for pioneering people and businesses who want to live and work side by side, innovating for the future. It's an exciting time for the future of Manchester and we're looking forward to sharing more information about the project throughout its development."
Chris Oglesby of Bruntwood, MSP and Corridor Manchester said: "We've produced a masterplan that embraces and exceeds the ambitions of the City's Strategic Regeneration Framework to create a vibrant new neighbourhood including fantastic new office, residential, retail and leisure uses, alongside exceptional new public spaces and routes through the site.
"Its unique location, connecting the city centre with the Corridor Manchester, enables the site to support the cross-fertilisation and commercialisation of ideas and a public green will provide Manchester with a new open space for people to gather and dwell."