Plans to reduce wind deflected from the 32-storey Bridgewater Place come after a man was killed by a lorry blown over in high winds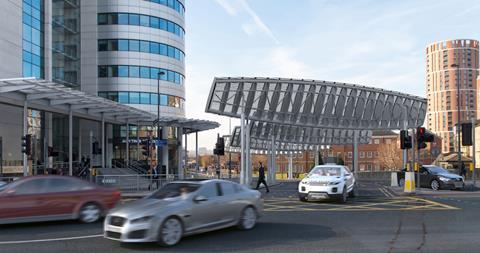 Plans to reduce the wind tunnel effect around the Bridgewater Place tower in Leeds have been unveiled.
The plans, drawn up by Chetwoods Architects, TP Bennett and engineers Buro Happold, are aimed at dampening the strong winds that are deflected from the 32-storey tower.
Currently Leeds council closes roads around the tower when winds reach high speeds, after a man was crushed by a lorry that overturned in 2011 in high winds believed to have been exacerbated by a wind tunnel effect created by the 112-metre tall building.
The designs include the erection of wind baffles across Water Lane with the addition of a series of vertical screens and canopies on the building.
Nick Sinfield, of CPPI Bridgewater Place Limited Partnership, owner of the building, said: "We are really pleased with the reaction to our plans so far and, following our presentation to Leeds City Council earlier this month, we are looking forward to discussing the plans further with members of the public.
"We hope to submit our plans to Leeds City Council in the coming months. However before we do we would like to know what the local community thinks."
Strong winds have been reported around Bridgewater Place since it opened in 2007 and the inquest into the death of Edward Slaney in heard that the building had created a wind tunnel effect in the surrounding streets.
Last year the Crown Prosecution Service ruled the tower's architect Aedas would not face corporate manslaughter charges over Slaney's death.