Devington says delayed Oceanique building getting back on track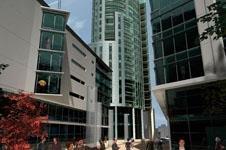 Developers behind a stalled £55m skyscraper in Plymouth have said they are hopeful of making a start on its construction next spring.
Work on the 32-storey, 500,000 ft2 Oceanique building had been expected to start in 2009 before being hit by delays.
But Devington Homes chairman Lawrence Butler has now said the firm expects to be on-site in the city's Derrry's Cross area "next spring" and that three "massive" construction firms had been shortlisted for the job.
Butler said the firm was in "serious talks" with hotel chain Accor and had an agreement with Plymouth University to fill 253 student rooms.
The proposals for the tower, which will have a boulevard running through it, also include some 109 apartments and 16,000 ft2 of retail space.
Butler told the Plymouth Herald that the residential units were proving "difficult to fund" but said he expected the hotel and student accommodation aspects of the development to support them.
"If we can fund the other items and have them signed off residential becomes relatively easier to secure," he said.
"That's why I'm saying next spring, anywhere between March and June."
In 2007, Building reported that Davis Langdon had won the contract to provide project management and QS services for Oceanique.