Police attend demonstration after protesters clash with staff at the company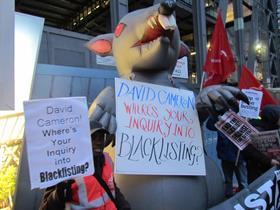 Kent Police were called to the Laing O'Rourke HQ in Dartford after blacklisting protesters clashed with staff during a demonstration.
Blacklist Support Group activists used social media to accuse Laing O'Rourke staff of assaulting them during a protest occupying the company's HQ in Dartford, Kent ahead of a High Court hearing tomorrow. However, a police spokesperson said no-one wished to make any criminal allegations at the scene.
Pictures of the protest that appeared on social network Twitter showed around a dozen protestors in front of the office building.
A Laing O'Rourke spokesperson said: "We can confirm that a small group of blacklisting protesters staged a short demonstration earlier today at our Bridge Place headquarters in Dartford, Kent. The local police were called and the protesters left soon after talking with them.
"We are aware of the allegation of an assault but cannot comment any further as it is a matter for the police."
A spokesman for Kent Police said they were called at 11.47am "to be made aware of a disturbance taking place" at Laing O'Rourke's offices.
They added: "Officers attended and took details, but no-one wished to make any criminal allegations to officers at the time. There were no reported injuries and the disturbance ended at around 12:45pm."
Protesters alleged that security at the office intervened as the protestors unveiled banners including one which said, "Laing O'Rourke blacklisting scum" and another which said, "Blacklist. Are you on it? It is sinister." Police were called to the offices shortly after the incident. Blacklisting protesters have previously targeted Laing O'Rourke sites such as the Cheesegrater in London (pictured).
The protestors have demanded to speak to senior management at the firm including those who they believe were involved in the blacklisting of construction workers. Today's protest came ahead of the start of a High Court trial tomorrow which will see eight construction companies face litigation over the blacklisting scandal.
Other construction companies that are involved in the court case include Balfour Beatty, Carillion, Costain, Kier, Sir Robert McAlpine, Skanska UK and Vinci.
The claimants have accused the firms of unlawful conspiracy, defamation, human rights violations and breaches of the Data Protection Act.
The High Court ruled in July that the companies involved in separate cases for blacklisting did have a case to answer, and would be heard together under a Group Litigation Order. The court case is due to start on Thursday (October 16), with a further hearing in December.
The blacklisting cases will be managed by a Steering Committee comprising of solicitors acting for UCATT, Unite and the GMB and the Blacklist Support Group.