Confidence collapses as country set for third PM this year
RIBA has warned of an expected contraction in workloads in the coming months as a new survey found confidence among practices has plummeted to levels not seen since the first covid lockdown.
The slump would likely last until next year and a return to growth would be dependent on the UK's response to the energy crisis, the institute said.
The warning came as RIBA published its latest Future Trends survey, which found nearly a third of architects now expect workloads to decrease over the next three months while just 16% expect them to increase.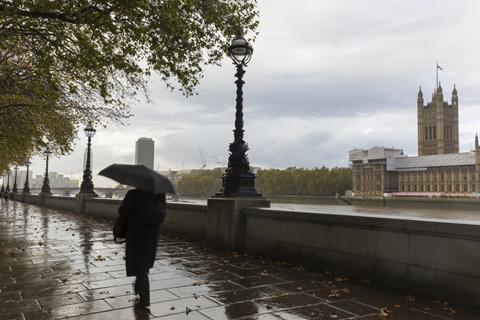 Outside of the first two months of the first covid lockdown, it is the most dismal outlook returned by the survey since the 2009 financial crisis.
Optimism fell in three out of four work sectors, with private housing, which has consistently been the best performing sector in recent years, plunging to a balance figure of -17 in the survey - a fall of 37 points since January. Any number below zero indicates practices expect workloads to contract.
London is the least confident among all regions, with its balance score for September falling to -23 from -7 in August. On average, workloads in London practices are 86% of those seen a year ago.
All regions are now in negative territory, with the North of England falling below zero for the first time since June 2020, while the South of England and the Midlands and East Anglia have both slid further with scores of -20 and -21 respectively.
For the first time in two years, practices also anticipate staff reductions over the next three months, while the number of firms expecting to employ more temporary staff has also fallen.
RIBA's head of economic research and analysis Adrian Malleson described the survey's findings as "stark."
"We see pessimism across all regions and sectors," he said. "Brexit, inflation, rising interest rates, post-Covid recovery, the war in Ukraine, and crumbling market confidence in UK fiscal policy all continue to weigh down on the UK economy and the construction sector.
"We can likely expect a contraction in architects' workloads in the coming months, and into next year. A return to growth depends in part on the UK's response to the energy crisis, on whether we begin in earnest to create a design-led, sustainable built environment."
Malleson said RIBA will continue to report the survey's findings to the government and work with other built environment bodies to monitor ongoing trends.
The publication of the survey follows Liz Truss resignation as prime minister yesterday, amid a rapidly escalating economic and political crisis fuelled by the government's disastrous attempts to tackle rising inflation and fuel costs with unfunded tax cuts.
A new prime minister is expected to be elected within the next week, with Boris Johnson reportedly among those expected to make a bid alongside former chancellor Rishi Sunak.