NEC will host badminton, boxing, table tennis, netball and weightlifting events
Populous' plan to increase the capacity of a Birmingham arena that is set to host a number of sports during the 2022 Commonwealth Games has been submitted to Solihull council.
NEC Group is hoping to get the go-ahead for the proposal to increase the capacity at the Resorts World Arena by around 6,000 in the lead up to the Games.
The NEC will host the badminton, boxing, table tennis, netball and weightlifting competitions at the event which will run from 27 July to 7 August 2022.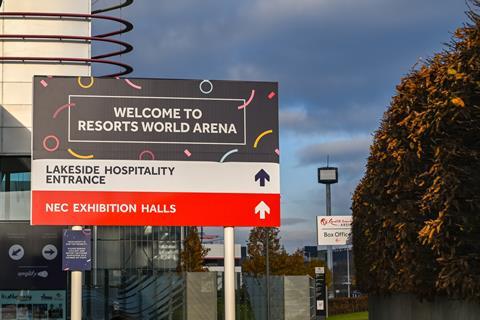 Populous, the architect behind Tottenham's new stadium, wants to remove the existing arena roof structure and replace it with a higher, larger volume roof.
This will allow for a new upper tier of seating to bring capacity to around 21,600 with new hospitality facilities, concourse, entrances and exits. The current capacity is 15,685.
Other firms working on the project include Arup, RLB and Mott MacDonald.
The application said the proposals would be built in a way that would minimise closure of the arena.
The arena under went a £28m refurbishment designed by DLA Design that was completed by GF Tomilinson in 2009. Mace was the project manager on the renovation.