The Port of Tyne has unveiled a £180m investment plan to improve its estate in South Tyneside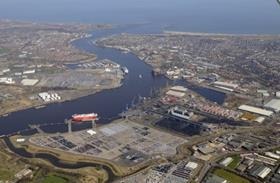 The plan involves the development of infrastructure and new facilities for the handling, storage and transportation of imports of wood pellet, an important source of bio-energy for power stations.
The plan will also see the extension of the main Riverside Quay at Tyne Dock.
The Port said the investment plan would provide 900 jobs in construction and a further 300 full-time operational jobs.
The Port said the process to find an investment partner to assist with funding was "well underway and discussions are being held with a number of interested parties".
Andrew Moffat, Port of Tyne chief executive said: "These are very significant plans for the Port of Tyne which are imperative for both the sustainability of the Port and the future delivery of the government's carbon reduction targets.
"The expertise we have gained in handling wood pellet for over two years and the technologies we have developed are now being sought by national and international energy companies looking to reduce their reliance on fossil fuels and meet government targets of using renewable fuels.
"The new proposals are for sophisticated, high spec storage and transfer solutions in terms of design, efficiency and reducing environmental impact, and are intended to maintain our position as a world leader in handling this important new fuel."