Unite union writes to London's transport commissioner Peter Hendy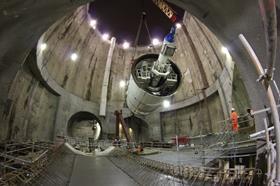 Union Unite has written to London's transport commissioner Peter Hendy urging him to investigate claims the £15bn Crossrail project has links to the blacklisting of workers.
In the letter to Hendy, Unite's deputy regional secretary for the London and eastern region, Vince Passfield, said Transport for London (TfL) "must act speedily to ensure the project is free from the illegal practice of blacklisting."
Hendy heads up TfL, which is joint client on Crossrail.
Building revealed last month that Crossrail's industrial relations manager Ron Barron – who worked on the project at project delivery partner Bechtel – was an established blacklister in a former role. Barron is no longer engaged on the project.
Ian Kerr, the chief officer of the Consulting Association (TCA) — which was uncovered and shut down by the Information Commissioner's Office (ICO) for collating a blacklist of over 3,000 workers - last week told a Commons hearing on blacklisting that there was "an awful lot of discussion" over Crossrail at TCA meetings.
Unite says it is campaigning against what it considers to be "the anti-union bias that exists across the whole project".
A spokesperson for Crossrail said the organisation was not aware of blacklisting in connection with the project, and had seen no evidence of it. He added that the Consutling Association was shut down before the awarding of the first station and tunnelling contracts in December 2010. "If evidence [of blacklisting] were to be presented we would take firm, decisive and immediate action. All our contractors are fully aware that blacklisting would result in an immediate breach of contract as well as being a criminal offence," he said.