But firm says second half of year has got off to strong start
Persimmon has seen pre-tax profit fall by almost 43% while revenue plunged by a third in the first half as the impact of covid-19 took its toll.
Dave Jenkinson, group chief executive, said Persimmon had responded swiftly to the challenges of the covid-19 pandemic which helped send pre-tax profit falling to £292m from £509m in the six months to June. Revenue slumped from £1.8bn to £1.2bn while home completions fell from 7,584 to 4,900.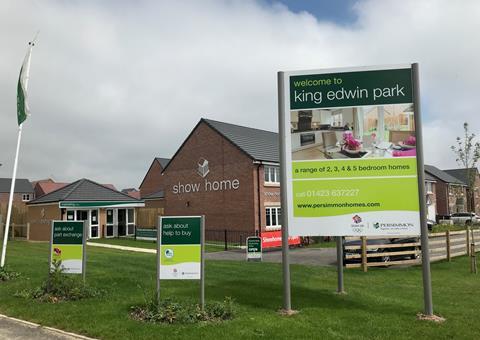 Jenkinson, who is being replaced in the role by National Express boss Dean Finch by the end of the year, said: "Taking an early decision not to take advantage of the furlough scheme for any colleagues, we maintained good momentum in the business, continuing to serve our customers, making detailed preparations for a safe return to work and, when it was appropriate, restarting our build programmes efficiently.
"Build rates were back at pre-covid levels by the end of the period."
The firm has said it is expecting a strong second half for the year and Jenkinson added: "The group has had an excellent start to the second half with a 49% year-on-year increase in average weekly private sales rates per site since the start of July and a current forward order book of £2.5bn, a 21% increase on last year.
"Our strong opening work in progress position and excellent build rate through the summer give us confidence in a positive second half outturn. We expect that by the end of September, we will have delivered 45% of our anticipated second half new home legal completions."
The firm said it was proposing a dividend payout of 40p per share, adding further dividend payments this year would remain under close review.