Buckinghamshire-based housebuilder sees revenues rise more than 60%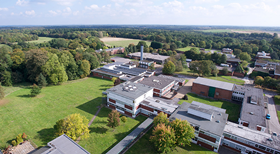 Inland Homes has reported a near 7% rise in annual pre-tax profit after posting a 63% hike in turnover over the year.
The Amersham-based Aim-listed housebuilder said house sales accounted for £70.2m of turnover in the year to the end of June 2018 of £147.4m, with the balance coming through land sales (£59.3m), contract and other income.
Operating profit fell 10% to £23.5m, while pre-tax profit rose 6.6% to £19.3m.
An increase in net debt at the year-end of £79.7m, up from £68m, was the result of expansion in house building for open market sale, it said.
The group, which is currently awaiting planning permission on its proposed development of the former headquarters of Tesco in Broxbourne, Hertfordshire (pictured), said it was seeing strong demand from first-time buyers, while 58% of its sales were backed by Help To Buy grants.
It believed that any changes to funding the Help-to-Buy scheme in three years' time would affect those who were not first-time buyers and those looking at properties towards the higher end of the price range.
It said the property market in Greater London was being affected by "wider political uncertainty" but values and demand in the Home Counties remained "robust".
Inland Homes sold 275 homes in the year, up 46%, while the average sales price dipped from £306,000 to £293,000.
The group said it was building nearly 700 homes at the year-end, up from 427 last year, across 13 sites and it sold 837 plots during the year, growing its landbank by 94 plots to 6,870.