Developer's revenue breaks the £250m barrier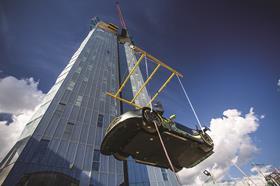 London developer Mount Anvil has posted a massive 281% jump in pre-tax profits in the year to December 2015
The firm recorded pre-tax profits of £66m for the year, up from £17.3m for 2014 having raked in £41m from its joint venture partnerships and £25m from the Mount Anvil Group. Turnover was also up 17% to £252.1m for the year, the firm said.
Mount Anvil reported a forward pipeline – 1,100 new homes and 108,000 sq ft of commercial space – worth £1.1bn, adding that it had limited the number of acquisitions made during the year choosing instead to focus on large complex regeneration sites with the potential to offer greater value over the longer-term.
The firm, which recently celebrated a partnership deal with luxury car brand Aston Martin by craning one of its cars onto the top of its 31-storey Dollar Bay scheme (pictured) in London's Docklands, also said it had reinvested cash generated during the year to pay down its debt of £43m and ended 2015 with net cash of £1.3m.
Killian Hurley, chief executive, said: "Our 2015 results clearly demonstrate how long term partnerships can create thriving mixed communities and record profits."
He added: "Over the next four years we are on-track to generate an additional £180m of profit for our partners – which could fund the construction of approximately 1,000 new affordable homes for London."
The company has also committed to investing up to £6m in an employee share scheme that has seen 93% of its team become business owners. Earlier this month, it launched the Mount Anvil Skills Academy in partnership with the CITB.