Dutch practice behind Birmingham's new library plans series of towers for Shenzhen
Mecanoo has won a design competition to create a new business district in the Shenzhen North Station area of the Chinese special economic zone.
The practice, which carried out work on the Stirling Prize-shortlisted Library of Birmingham which opened four years ago, created a scheme featuring 12 skyscrapers to deliver 1.36 million sq m of new space, encompassing offices, retail space, apartments and a hotel – all in close proximity to the Shenzhen North railway and metro station.
Mecanoo's proposals for the area also include a new public park around which the skyscrapers – which range in height from 278m to 428m – are set.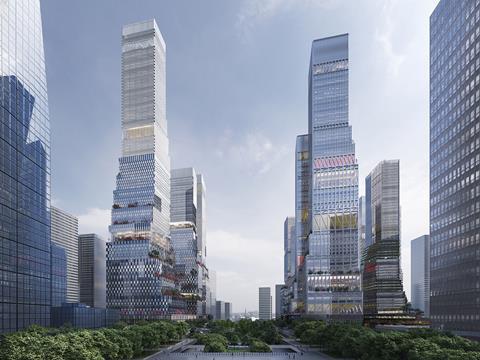 It said an "intricate network of overpasses, ramps and landscaped platforms" would seamlessly weave the design of the park into the urban setting, offering safe and comfortable access routes to the railway and metro station, which has high-speed links to destinations including Beijing, Hangzhou and Guangzhou, as well as cross-border services to Hong Kong.
"Rather than define the exact shape of the towers, the design establishes rules which ensure coherency yet encourage a degree of variation," it added.
"The smart façade system of glazed, angled elements offers diversity to support the different programmes and respond to the orientation while ensuring the overall appearance.
"Setbacks allow for the creation of roof gardens, which – together with interior sky gardens at some of the higher levels – integrate the urban park design into the buildings."