World Cup organisers look to ensure contractors bidding for £4bn worth of work are providing humane environment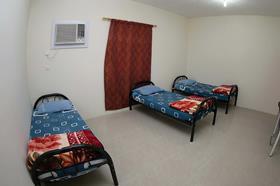 Organisers of the Qatar 2022 World Cup have begun random inspections of building sites to ensure contractors bidding for £4bn worth of World Cup stadium and infrastructure work are providing humane working and living conditions for labourers.
Contractors bidding for the first packages of World Cup work, including the Zaha Hadid and Aecom-designed 40,000-seat Al Wakrah stadium, have already been subjected to unannounced inspections at their existing construction sites in Qatar.
It is understood at least one UK contractor is among the firms to have been inspected by the Qatar World Cup client, the Supreme Committee for Delivery and Legacy (SCDL).
The SCDL published a detailed charter aimed at protecting the rights of workers on World Cup projects in February, which will be binding on all contractors working on the scheme.
A spokesperson for SCDL confirmed compliance with the charter is "an important part of the technical criteria used to evaluate bidding companies" and the inspection regime "helps us determine if a company complies or has the potential to comply."
A source in Qatar said the inspection regime "should put UK contractors in a good position as UK firms tend to have a much better record on worker conditions compared to their international competitors".
Separately, Qatar's Ministry of Municipality and Urban Planning has begun tendering several workers' accommodation complexes with a capacity of 28,000 each to help house the estimated 500,000 to one million additional workers needed to build World Cup stadiums and supporting infrastructure.
These moves are part of a concerted push by Qatar to improve living and working conditions for its large migrant worker population, after coming under intense media scrutiny following the deaths of almost 200 Nepalese men on construction projects in Qatar last year, with the International TradeUnion Confederation saying up to 4,000 could die by 2022 if conditions for migrant labour are not improved.
Building revealed in November a Qatar start-up consultant founded by two British former Davis Langdon partners, Quantex Qatar, is among the firms planning to build humane accommodation for 2022 World Cup construction workers.
Qatar is planning to build at least eight stadiums to host the 2022 World Cup, with at least six new-build stadiums, of which Al Wakrah will be the first to complete in 2018.
Enabling works for Al Wakrah stadium have begun, with 79 workers on site. The workers are being housed in air-conditioned accommodation (pictured) providing rooms for two to three people and three meals a day, laundry, bathrooms, medical cards, wi-fi, television and recreational facilities.