Highway Agency wants improvements to Junction 30 to help stimulate economic activity in the Thames Gateway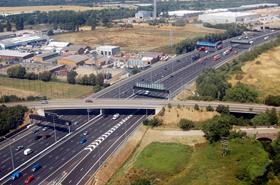 The Highways Agency is seeking a contractor for a £99m job to relieve congestion on the M25.
The scheme aims to improve the flow of traffic on the M25 between Junction 30 and the A13.
It involves widening the A13 between Wennington and the A126 junction and improving the junction between the A13 and the M25 with additional lanes, improved signage and signalling.
In the OJEU notice for the job the Highways Agency said the project would "improve journey time and journey time reliability and to improve safety and accessibility" on the section of the motorway.
It added that it would "enhance access to wider UK market for the Thurrock area and the users of the Ports of Tilbury and London Gateway and users in the Thames Gateway area".
The contract is valued at between £63m and £99m.
Expressions of interest must be submitted by midday on 24 February.