The acquisition is set to save 63 jobs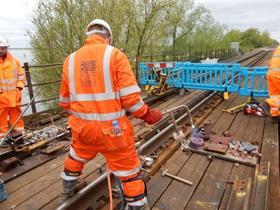 Rail Safety Solutions has bought Carillion Welding, saving 63 jobs across four locations in the UK.
Carillion Welding, which carries out work in the rail sector, is now part of Birmingham-based infrastructure specialist Auctus Management Group which also owns Rail Safety Solutions.
Richard Toy, chief executive of Auctus Management Group, said: "This acquisition forms part of our strategic development to expand our range of services and specialisms within the rail and infrastructure sectors."
Earlier this week the Official Receiver revealed in the almost four months since Carillion went bust, the number of ex-Carillion staffers who have chosen to leave the business due to finding new work, retirement or for other reasons had passed four figures.
Throughout the liquidation, 11,489 jobs have been saved, 2,292 jobs have been made redundant, 1,102 employees chose to leave the business and around 3,200 employees are currently retained to enable Carillion to deliver the services it is still providing.