The engineer will carry out surveys and provide on-site support in one of the world's harshest climates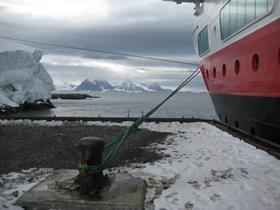 Ramboll has been appointed as the technical advisor on the British Antarctic Survey's (BAS) plans to improve its Antarctic research stations.
The works are being funded by the government as part of an investment into the new polar research vessel, the RRS Sir David Attenborough - which the public had wanted to call Boaty McBoatface - which will be ready to sail in 2019.
The engineering specialist was appointed by the National Environment Research Council on the seven year job and will initially undertake technical research to develop options for the replacement or upgrade of existing wharf and jetties at BAS Antarctic and subantarctic research stations.
The firm is also advising the team responsible for relocating BAS's Halley Research Station on the Brunt Ice Shelf and on a number of other building, energy efficiency and logistical projects.
BAS director of operations Tim Stockings said:"The UK Government is making a major investment in Britain's polar research capability. The appointment of Ramboll brings specialist expertise to our in-house teams. We look forward to working together to develop and deliver well-engineered facilities that meet our shared ambitions for sustainability and excellence."