Political uncertainty continues to dog sector, says IHS/Markit survey
Sales volumes in UK construction have seen the longest period of decline for more than six years, according to the latest figures from IHS Markit/CIPS.
Although the rate at which output fell slowed in November, data suggested depressed client confidence and an ongoing reluctance to begin new projects was a response to "domestic political uncertainty".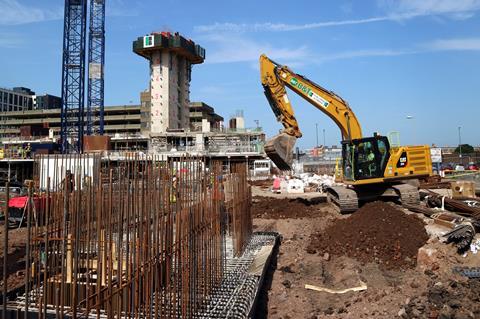 This has led to lower sales volumes being recorded for eight months in a row, IHS Markit said, the longest phase of decline since 2012-13.
The IHS Markit/CIPS UK Construction Total Activity Index rose to 45.3 in November, from 44.2 in October, to signal the slowest drop in overall construction output for four months. But it was still well below the score of 50 which indicates a contraction in the market.
Worries about HS2, which is subject to a government review the results of which are expected to be out early next year, meant civil engineering activity was again the worst-performing category, followed by commercial activity.
And while the latest PMI data showed the ongoing decline in domestic construction output had slowed in November, boosted by a slower decline in house building activity, new work continued to drop sharply as domestic political uncertainty caused clients to hit the pause button on projects.
The upcoming general election on 12 December appears to have done little to improve sentiment across the sector.
Construction firms reported what IHS/Markit called a "sustained decline" in numbers of staff in November, with weaker demand leading to cost-cutting and firms not replacing voluntary leavers.
One bright spot was subdued demand leading to fewer price rises for raw materials, with the latest data suggesting overall input cost inflation remained around its lowest point for nearly four years.
Max Jones, a director in Lloyds Bank Commercial Banking's construction and infrastructure team, said contractors couldn't be confident around infrastructure work "until contracts are signed and shovels hit the ground".
He said firms were "dealing with currency risks by hedging early to lock in rates, giving them better visibility of input costs, though concerns about the availability of overseas labour in the future remains a concern".
And Scape Group's chief executive Mark Robinson warned the sector remained paralysed by "uncertainty and ambiguity around Brexit, as well as the future of the British economy".
Robinson said the next government had to commit to get building again "and ensure that we have the manpower to deliver".