Laing O'Rourke boss Ray O'Rourke to join 16 others on new advisory panel to develop an industrial strategy for construction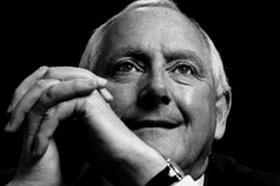 Ray O'Rourke is to be part of a team of industry figures to advise the government on the creation of its industrial strategy for construction.
The founder of Laing O'Rourke is amongst a team of 17 advisors, to be called the Construction Industrial Strategy Advisory Council or CISAC, that will help the new chief construction advisor Peter Hansford draw up the strategy, due to be published in the summer.
Other members include senior figures already involved with drawing up the government's construction strategy and Infrastructure UK's cost reduction programme, such as Barratt chief executive Mark Clare, Skanska UK CEO Mike Putnam, and KPMG's global infrastructure chair James Stewart.
The team will cover issues such as how to promote growth and innovation; how to engender supply chain reform; how to deliver the right construction skills; and the access to finance and overseas trade.
As revealed by Building last week, the strategy is intended to build on, but not duplicate, the work of the Green Construction Board, the Infrastructure UK Cost Review, and the Government Construction Board.
Construction minister Michael Fallon said the strategy was about setting out a long term approach to how the government supports business. "Construction is a sector where Government and business working together can have a real impact. It can drive productivity and growth in other parts of the economy.
Chief construction adviser Peter Hansford said: "I'm delighted that these key figures from across the construction industry have agreed to join our new Advisory Council. I look forward to working with them over the next six months to create a long-term strategy for our industry and to chart the way forward for construction in the UK."
Strategic Forum for Construction chair Bill Bolsover said: "One only needs to look back to the 90s to see how much the industry can change in a relatively short period of time. If UK construction is to be well place to respond to the demands of the 2020s, we must start planning now.
"The Strategic Forum welcomes the formation of CISAC to define what this future might look like. We are pleased to support this work, ensuring a globally competitive future for our industry."
The full list of advisors is:
Peter Hansford (Chair) - Chief Construction Adviser, UK Government
Denise Bower - Professor in Engineering Project Management, University of Leeds
Mark Clare - Group Chief Executive, Barratt Developments
Geoff Cooper - Chief Executive, Travis Perkins
Keith Howells - Chairman, Mott MacDonald
Chris Kane - Director, Greendale Construction
Simon Kirby - Managing Director, Infrastructure Projects Network Rail
Kevin Louch - Managing Director, Stanford Industrial Concrete Flooring
Robert Mair - Professor and Head of Civil and Environmental Engineering, University of Cambridge
Chris Newsome - Director of Asset Management, Anglian Water
Ray O'Rourke - Chief Executive and Chairman, Laing O'Rourke
David Pinder - Chief Executive, BDR Thermea
Neil Sachdev - Property Director, Sainsbury's
Paul Sheffield - Chief Executive, Kier Group
James Stewart - Chairman of Global Infrastructure, KPMG
Jack Pringle - Principal, Managing Director, Pringle Brandon Perkins + Will
Mike Putnam - CEO and President, Skanska UK
Mark Wakeford - Managing Director, Stepnell