Ministers brand FTSE350 firms' explanations 'patronising' and 'shocking'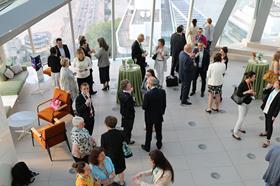 Government ministers have slammed the reasons given by FTSE350 companies for failing to appoint more women to their boards, labelling them 'pitiful' and 'pathetic' .
Publishing explanations given for low levels of female representation business minister Andrew Griffiths said it was shocking that some businesses "think these pitiful and patronising excuses are acceptable reasons to keep women from the top jobs. Our most successful companies are those that champion diversity."
The explanations from a range of FTSE 350 company chairs and chief executives were heard by the team behind the government-backed Hampton-Alexander review, which has challenged firms to ensure at least a third of their board members and leadership are women by 2020.
Amanda Mackenzie, chief executive of not-for-profit organisation Business in the Community said reading the list of excuses one could be forgiven for thinking it was 1918 not 2018. "It reads like a script from a comedy parody but it's true. Surely we can now tackle this once and for all.
"Maybe those that give credence to these excuses are the ones that are not up to sitting on boards and should move over. We are in the 21st century after all."
And while he condemned the excuses as "shocking and pathetic" UK government minister Lord Duncan said the number of women on boards doubling in the FTSE 350 since 2011 showed there had been "solid progress".
The construction industry has a handful of top-level women, including Interserve's chief executive Debbie White, while trade body BuildUK is headed by Suzannah Nicol.
Among the FTSE350 are housebuilders Bovis, which has one female board member, non-executive Chris Browne, and Bellway, which has two female non-executive directors, Jill Caseberry and Denise Jagger.
Last month, it was revealed that women working at the country's biggest contractors are substantially worse off than their male colleagues, with figures revealing they earn close to one-third less an hour than men.
All UK firms with more than 250 staff are now required by law to publish annual figures showing the pay gap between their male and female employees, with the results being published on the employer's own website and a government site.
Explanations from FTSE350 companies cited by the government included:
1. 'I don't think women fit comfortably into the board environment'
2. 'There aren't that many women with the right credentials and depth of experience to sit on the board – the issues covered are extremely complex'
3. 'Most women don't want the hassle or pressure of sitting on a board'
4. 'Shareholders just aren't interested in the make-up of the board, so why should we be?'
5. 'My other board colleagues wouldn't want to appoint a woman on our board'
6. 'All the "good" women have already been snapped up'
7. 'We have one woman already on the board, so we are done – it is someone else's turn'
8. 'There aren't any vacancies at the moment – if there were I would think about appointing a woman'
9. 'We need to build the pipeline from the bottom – there just aren't enough senior women in this sector'
10. 'I can't just appoint a woman because I want to'