Collaboration between supermarket firm and Weston Homes to provide nearly 1,300 homes in Goodmayes
Housebuilder Weston Homes and supermarket firm Tesco have secured a resolution to grant planning permission for their joint plans for a 1,280-home new urban village in Goodmayes, east London.
The pair secured the go-ahead from Redbridge council to transform an existing 10.4 acre Tesco store and car park into a new community called Lorimer Village which it said has a gross development value of £500m.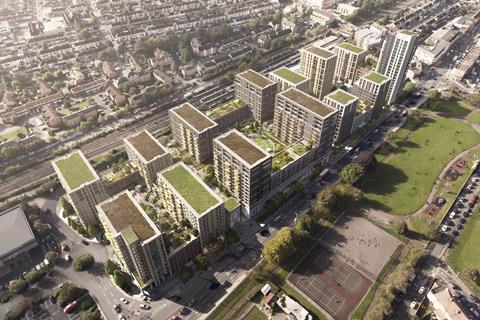 The scheme includes rebuilding the Tesco, alongside plans for 14 separate towers, rising to 22 storeys. It will also include a three-form primary school, village hall, landscaped garden and public transport improvements.
In a statement, the firms said the scheme would take around eight years to build out, with a start on site expected in early 2022.
The scheme, of which 35% will be affordable housing, was designed by RDA Architects with Allen Pyke acting as landscape consultants.
The name of the scheme references Arts & Craft architect Robert Lorimer, who was a pioneer in the building of green suburbs. The scheme includes nearly eight acres of landscaped gardens and parks.
Parking for the Tesco and residents will be provided underneath the development.
The development will also include brown roofs and be 100% electric powered, making use of 682 solar PV panels on the scheme's rooftops.