Redrow chairman Steve Morgan says sales rates have settled down as Help to Buy beds in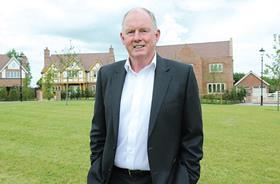 Political posturing ahead of next year's general election is already slowing up the planning process, Redrow chairman Steve Morgan has claimed.
In a trading update this morning, Morgan said obtaining detailed consents and clearing what he branded "countless unnecessary conditions" remained a "significant constraint on new outlet openings and growth".
He said: "In addition, political posturing ahead of next year's General Election is already having a detrimental impact on the time taken to grant planning permissions in many parts of the country."
Outlining Redrow's interim management statement, he confirmed that last year's flurry of activity prompted by the launch of the government's Help to Buy initiative had settled down.
Weekly sales rate over the last ten weeks per outlet, excluding London, had been 0.68, which was in line with last year's figures and represented what he described as a "traditional autumn" market.
Morgan also told shareholders that cancellation rates remain at historically low levels and that the average selling price in the year to date is 4% ahead of the same period in 2013 at £284,000.
Redrow's private order book is up 10% year on year at £465m, and the company has added 1,500 plots across 14 sites to its current land bank since the start of the financial year.
Morgan said that phasing of land purchases and legal completions has reduced the company's net debt from £173m in June to around £120m currently, which is expected to rise back up to c£150m by the end of December 2014.